PULSE Leadership Conference set for Jan. 23-24, 2021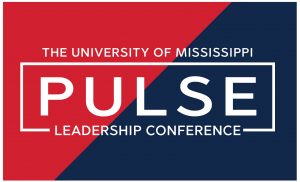 Sponsorship opportunities now available
PULSE (Preparing Undergraduate Leaders, a Student Experience) is a two-day leadership conference that brings together University of Mississippi students from a variety of roles on campus to learn about themselves and their leadership potential. Through participation in the program, students will be exposed to various concepts of leadership that will assist them in becoming more aware of themselves and the realization that leadership is an expression of self and a means of serving, inspiring and empowering others.
PULSE is designed to provide practical leadership skills in an environment where students can learn, not only about themselves but about what leadership means to them. There are, undeniably, certain sets of words that tend to accompany the concept of leading. Words like "ambitious" and "outgoing," and phrases such as "big personality" have signaled to many that leadership is not for everyone.
Along with the keynote speakers, the PULSE Leadership Conference features leadership workshops led by faculty, staff, alumni, friends of the university and graduate students. Students will also be placed in small groups to allow them to define and articulate their own values, as well as craft action-driven questions to measure their leadership service throughout their time at the University.
Through participation in the program, our hope is for students to realize that leadership is an expression of self and a means of serving, inspiring and empowering others. Leadership can come from the most unexpected places or the most unlikely of people. We want our students to build their own brand of leadership and apply it throughout all areas of their life.
PULSE is a collaborative effort made possible by the leadership of the Student Union and the Ole Miss Women's Council for Philanthropy.
PULSE 2021
PULSE 2021 is set for Jan. 23-24, 2021, and will be held at the Ole Miss Student Union (dates and location are subject to change). This year's conference will focus on The Five Practices of Exemplary Leadership Model.
"Leadership is not about personality; it's about behavior — an observable set of skills and abilities. When the co-authors of The Leadership Challenge, Jim Kouzes, and Barry Posner, first set out to discover what effective leaders do when they're at their personal best, they collected thousands of stories from ordinary people — the moments they recalled when asked to think of a peak leadership experience. Despite differences in culture, gender, age and other variables, these "personal best" stories revealed similar patterns of behavior. The authors discovered that when leaders experience their personal best, they display five core practices: they Model the Way, Inspire a Shared Vision, Challenge the Process, Enable Others to Act and Encourage the Heart. Jim and Barry called these behaviors The Five Practices of Exemplary Leadership®. Together, these practices provide the basis for The Leadership Challenge®."
Source: https://www.leadershipchallenge.com/Research/Five-Practices.aspx
The Five Practices of Exemplary Leadership model prove its effectiveness as a clear, evidence-based path to achieving the extraordinary — for individuals, teams, organizations, students, educators, and communities. It turns the abstract concept of leadership into easy-to-grasp practices and behaviors that can be taught and learned by anyone willing to step up and accept the challenge to lead. The LPI®: Leadership Practices Inventory® — one of the most widely used leadership assessments in the world — provides feedback that leaders can use to adopt and strengthen leadership behaviors. Ongoing studies consistently confirm that The Five Practices and the LPI assessment positively relate to both the effectiveness of leaders and the level of commitment, engagement and satisfaction of those they lead. PULSE 2021 participants will take this assessment prior to the conference.
The Five Practices of Exemplary Leadership:
Model the Way
Leaders establish principles concerning the way people (constituents, peers, colleagues, and customers alike) should be treated and the way they should pursue goals. Leaders create standards of excellence and set an example for others to follow. They put up signposts when people feel unsure of where to go or how to get there. Leaders create opportunities for victory.
Inspire a Shared Vision
Leaders passionately believe they can make a difference. They envision the future and create an ideal and unique image of what the organization can become. Through their magnetism and persuasion, leaders enlist others in their dreams. They breathe life into their visions and get people to see exciting possibilities for the future.
Challenge the Process
Leaders search for opportunities to change the status quo. They look for innovative ways to improve the organization. In doing so, they experiment and take risks. Since complex change threatens to overwhelm people and stifle action, leaders set interim goals so that people can achieve small wins as they work toward larger objectives. Effective leaders unravel bureaucracy when it impedes action. And, because leaders know that taking risks involves mistakes and failures, they accept occasional disappointments as opportunities to learn.
Enable Others to Act
Leaders foster collaboration and build spirited teams. They actively involve others. Leaders understand that mutual respect sustains extraordinary efforts. They strive to create an atmosphere of trust and human dignity. They strengthen others, making each person feel capable and powerful.
Encourage the Heart
Accomplishing extraordinary things in organizations is hard work. To keep hope and determination alive, leaders recognize the contributions that individuals make. In every winning team, the members need to share in the rewards of their efforts, so leaders celebrate accomplishments. They make people feel like heroes.
Sponsorship Opportunities:
The PULSE Planning Committee would love to partner with you for this conference. The average cost per student is $100, which covers meals (if applicable), leadership materials and PULSE branding material for each participant.
The PULSE Planning Committee plans to email the application to all eligible students, as well as use a nomination process. We are happy to provide academic units with a list of students eligible to apply should the unit choose to send a follow-up email to certain students. It's our goal to ensure that all eligible students are both aware of this opportunity and have the financial ability to attend.
We know there are many demands for financial support; however, we hope that you will consider sponsoring students to attend PULSE this year. We feel that now, more than ever, students will benefit from a leadership community and all the opportunities for growth that come along with it.
We hope that you will consider one of the following sponsorship levels:
Platinum: $2,500

25 students would be able to attend PULSE
Recognition in PULSE marketing and program materials

Gold: $1,500

15 students would be able to attend PULSE
Recognition in PULSE marketing and program materials

Silver: $1,000

10 students would be able to attend PULSE
Recognition in PULSE marketing and program materials

Bronze: $500

Recognition in PULSE marketing and program materials
Please contact Casey Cockrell Stuart (casey@olemiss.edu) or Haley Anderson (heander3@olemiss.edu) with any questions. Thank you for your consideration and commitment to providing our students with exceptional programming.
Sincerely, PULSE Planning Committee