OMWC to Honor Dolly Parton April 9-10
Dear Sponsors and Friends,
"When life is good again, it's going to be better than it ever was." – Dolly Parton
As we share the news about Dolly postponing her visit with us until the spring, we take to heart the optimistic words this legendary performer and philanthropist shared with TIME about finding hope as we all adapt to the ongoing pandemic. Because the number of COVID-19 cases has increased dramatically in recent weeks, we will have to continue looking forward to spending some quality time with Dolly for a few more months.
The Ole Miss Women's Council for Philanthropy is so grateful to Dolly for reserving the weekend of April 9 – 10, 2022. The free but ticketed Storytime event will be held at the Gertrude C. Ford Center for the Performing Arts on Saturday, April 9, and the Legacy Award dinner will follow on Sunday, April 10. All arrangements for sponsors already established will remain the same for these new dates.
We so appreciate your generous investments in student programming for OMWC scholars through these signature events. Please know your support means the world to our students and to us. If you have questions about this rescheduled event, contact Suzanne Helveston at shelveston@olemiss.edu or 662.915.2956.
Thank you for your patience and understanding. While Dolly's visit with us has to be delayed, we know that when she comes to Oxford next spring, it's going to be better than ever!
In the meantime, if you want to see Dolly talk about remaining optimistic and watch "When Life is Good Again," the video of the song Dolly was inspired to write during the pandemic, click this link.
With gratitude,
Mary Haskell, Legacy 2020 Chair
Jan Farrington, Sponsorship Chair
---
Dolly Parton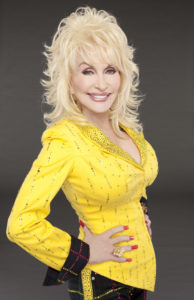 Larger-than-life music and entertainment legend Dolly Parton will join the University of Mississippi family on April 10th, as she is honored with the 2020 Legacy Award of the Ole Miss Women's Council for Philanthropy. The award recognizes the tenets of the OMWC: leadership, mentorship, and philanthropy.
The beloved country music singer, songwriter, instrumentalist, record producer, actress, author, business professional, and humanitarian is a native of Locust Ridge, Tennessee. Currently, Dolly is partnering with longtime friend and Ole Miss alum Sam Haskell, and his Magnolia Hill Productions, in producing a Netflix series featuring movies based on eight of her songs.
Dolly has enjoyed 25 Billboard country No. 1 hits, more than 50 Top 10 country songs, and a record 44 Top 10 country albums. The inductee in the Nashville Songwriters Hall of Fame, Country Music Hall of Fame, and the Songwriters Hall of Fame, has won 10 Country Music Association Awards, seven Academy of Country Music Awards, three American Music Awards, and eight Grammy Awards.
Dolly is also the 2019 MusiCares Person of the Year – the first time in history a country music entertainer has been recognized with this prestigious honor. A charity that supports people in the music industry experiencing challenges, MusiCares chose to pay tribute to Dolly for her considerable creative accomplishments and her longtime support of a number of causes through her Dollywood Foundation, including the Imagination Library. Since founding this initiative in 1996, Dolly has given away more than 125 million books to children from birth to five years of age in the United States, Canada, Australia, and the U.K.
In addition, Dolly has received the distinguished Kennedy Center Honors and a Grammy Lifetime Achievement Award. She is a 50-year member of the Grand Ole Opry, and Nashville declared August 5, 2019, as Dolly Parton Day.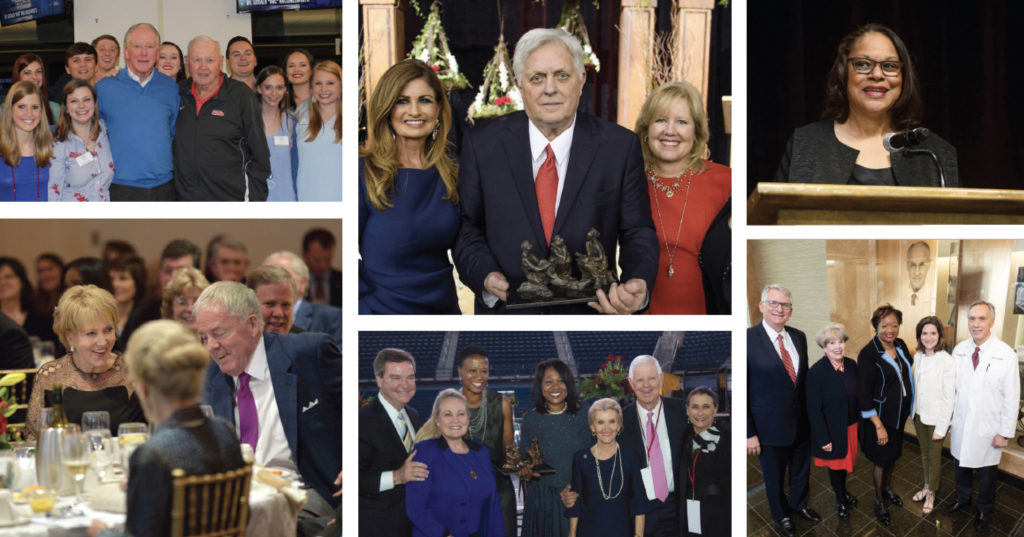 History of the Legacy Award
Twenty-four diverse women gathered at the University of Mississippi in the year 2000 to explore how they might nurture young men and women to help them become more successful professionals and servant-leaders in their communities. You could say the Ole Miss Women's Council (OMWC) set out to change the world one student at a time. When the council was created, its founders understood that the success of future generations of University of Mississippi students depended on more than just providing scholarships. This organization of remarkable women recognized that success in and beyond college relies on strong relationships and nurturing support those relationships provide.
Mentorship, therefore, became the cornerstone of the OMWC scholarship program. Over the last 20 years, approximately 147 students have blossomed under the program, once described as one of the most creative and timely scholarship programs in the nation. The hands-on involvement of visionary OMWC members builds confidence in the scholars and broadens their views and experiences. Because of mentoring experiences and leadership training, OMWC scholars not only graduate and pursue meaningful careers, but they also become servant-leaders who understand the importance of giving back. The long-term impact of the program will be felt for generations to come.
In celebration of those scholarship recipients and the OMWC's first decade of existence, the Council created the Legacy Award to recognize individuals who epitomize the Council's goals of philanthropy, leadership, and mentorship. Through their contributions these honorees have brought about definitive, positive changes in Mississippi's Flagship University, our state and nation.
Thank you to our 2020 Sponsors
Title

Platinum

Gold

Silver

Bronze
Nancy and Richard Akin
Sandy and John Black
Butler-Snow
Judith and Sam Carroll
Ginger and Charles Clark
Mary Susan and J.D. Clinton
College of Liberal Arts
Jan and Lawrence Farrington
Gaye and Rodger Flynt
FNC/Corelogic
Roane and Robert Grantham
Martha Kirkley
Lafayette County Literacy Council
Mary and Sam Haskell
Edith Kelly-Green
Olivia and Archie Manning
Susan and David McCormick
Karen and Bruce Moore
OM Alumni Association
OM Athletic Association
Bond Oman
Andrea and Charles Overby
Patterson School of Accounting
Samantha and Will Pepper
Pam and Welson Perkins
Gail and John Pittman
Lib and Neal Quirk
Randall Commercial Group
Mary Sharp and Jim Rayner
School of Business
School of Education
Betsy Smith
Vicki and Harry Sneed
Suzan and Tommy Thames
Jane Carter Thomas-Chapman
Kimberly Fritts and Marion Turner
Trinity and Scott Walker
LouAnn Woodward
We are currently sold out of sponsorship opportunities. Please contact Suzanne Helveston at shelveston@olemiss.edu or 662-915-2956 if you would like to be placed on a waiting list.