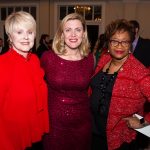 Women's Council raises funds for student programming
A lively auction of bucket list-type experiences attracted almost $130,000 to expand programming for Ole Miss Women's Council scholars at the University of Mississippi. The auction was part of the Council's 20th anniversary celebration.
---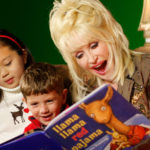 Thank you for your generous support of the 2020 Legacy Dinner honoring legendary entertainer Dolly Parton. To uphold the guidelines given to our nation to prevent the continued spread of the coronavirus, the Ole Miss Women's Council for Philanthropy is rescheduling this major event for Sunday, Sept. 13, 2020. Dolly has graciously reserved this new date for the Legacy Award and Storytime events. All arrangements for sponsors will remain the same.
---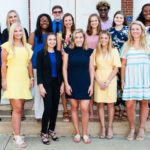 The 2019-2020 Ole Miss Women's Council for Philanthropy (OMWC) freshman class scholars are (front, from left) Mary Lathan Pittman of Batesville, Mississippi; Samantha Turner of Starkville, Mississippi; Emelia O'Neill of Smithton, Illinios; Gray Duperier of Oxford, Mississippi; Ansley Brown of Johns Creek, Georgia; (second row, from left) Amyaha Graham of Clarksdale, Mississippi; Shelby Sledge of Amory, Mississippi; Casiah Watson of Jackson, Mississippi; Shelby Phillips of Hattiesburg, Mississippi; Mary Patton Murphy of Jackson; Hailey Ellis of Olive Branch, Mississippi; Jodyn Wyms of Tupelo, Mississippi; (back row, from left) Brody McCammon of New Albany, Mississippi; and Bradley Brantley of Jackson.
---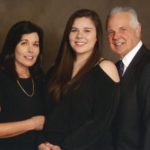 Mike and Cheryl Ducker established the Phyllis Shane Ole Miss Women's Council Scholarship Endowment in memory of Cheryl's late mother with a gift of $125,000.
While attending the University of Tennessee Nursing School, Phyllis Shane of Kingsport, Tennessee, met her future husband, James. Soon after, she put her dream of becoming a nurse on hold.
---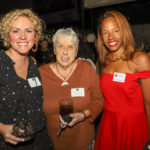 One Christmas Eve afternoon when Dr. Jane-Claire Williams was 9 years old, her family piled into their car and drove from their home in Jackson to a neighborhood in another part of town where homes were smaller and the lawns weren't as manicured.
They stopped at one of those homes and delivered a Christmas dinner and toys to a family that couldn't afford to celebrate Christmas the way Williams and most of her family and friends could.