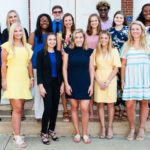 The 2019-2020 Ole Miss Women's Council for Philanthropy (OMWC) freshman class scholars are (front, from left) Mary Lathan Pittman of Batesville, Mississippi; Samantha Turner of Starkville, Mississippi; Emelia O'Neill of Smithton, Illinios; Gray Duperier of Oxford, Mississippi; Ansley Brown of Johns Creek, Georgia; (second row, from left) Amyaha Graham of Clarksdale, Mississippi; Shelby Sledge of Amory, Mississippi; Casiah Watson of Jackson, Mississippi; Shelby Phillips of Hattiesburg, Mississippi; Mary Patton Murphy of Jackson; Hailey Ellis of Olive Branch, Mississippi; Jodyn Wyms of Tupelo, Mississippi; (back row, from left) Brody McCammon of New Albany, Mississippi; and Bradley Brantley of Jackson.
---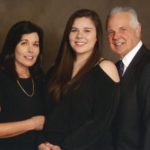 Mike and Cheryl Ducker established the Phyllis Shane Ole Miss Women's Council Scholarship Endowment in memory of Cheryl's late mother with a gift of $125,000.
While attending the University of Tennessee Nursing School, Phyllis Shane of Kingsport, Tennessee, met her future husband, James. Soon after, she put her dream of becoming a nurse on hold.
---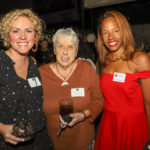 One Christmas Eve afternoon when Dr. Jane-Claire Williams was 9 years old, her family piled into their car and drove from their home in Jackson to a neighborhood in another part of town where homes were smaller and the lawns weren't as manicured.
They stopped at one of those homes and delivered a Christmas dinner and toys to a family that couldn't afford to celebrate Christmas the way Williams and most of her family and friends could.