OMWC Auction Finds Success
Event raises funds for student programming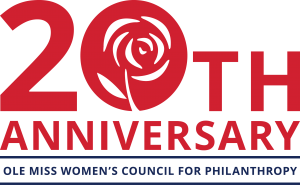 A lively auction of bucket list-type experiences offered by the Ole Miss Women's Council for Philanthropy has attracted almost $130,000 to expand programming for OMWC scholars at the University of Mississippi.
Auction proceeds will fuel the new Ellen Robinson Rolfes Ole Miss Women's Council Rose Garden Endowment, with the annual income supporting a variety of enriching activities for students. Rolfes of Memphis, Tennessee, is considered the architect of the OMWC, and roses are the council's metaphor for students.
"The 20th anniversary of the Ole Miss Women's Council presented the perfect opportunity to introduce new and meaningful initiatives," said council chair Mary Susan Gallien Clinton of Naples, Florida. "We are thrilled that our event produced the resources to establish this endowment, paying tribute to the woman who gave a voice to female philanthropists – all leaders who happen to love this university and its students.
"Alumni and friends responded enthusiastically to our inaugural silent and live auctions of extraordinary experiences and other items, and we are truly grateful."
Leigh Anne and Sean Tuohy of Memphis, Ole Miss alumni and subjects of the movie "The Blind Side," were auctioneers for the dinner event at The Inn at Ole Miss. Among the live auction items to command the largest bids were:
$41,000 for the ultimate tailgating experience for 50 people in the Grove before the Oct. 3 Alabama-Ole Miss football game. One of the most anticipated games of 2020, the matchup will have new Ole Miss Head Football Coach Lane Kiffin facing his former boss, Alabama Head Football Coach Nick Saban. The Shelly and Ralph Stayer family and Johnsonville Sausage will host the extravagant tailgate, featuring food by NBC "Today Show" contributing chef and cookbook author Elizabeth Heiskell.
$40,000 for an evening with legendary entertainer and 2020 OMWC Legacy Award winner Dolly Parton – with cocktails and dinner for 10 people, hosted by Mary and Sam Haskell. The Legacy Award recognizes those who exhibit exceptional leadership, mentorship and philanthropy, such as Parton whose Imagination Library provides millions of books to children around the globe.
$15,000 for the exclusive Oxford experience with Ole Miss and pro football great Archie Manning. The evening will treat 10 guests to a gathering to hear some of Manning's favorite stories before walking to the historic Oxford Square for dinner. Each guest will receive footballs signed by all the Manning men – Archie, Cooper, Peyton and Eli.
$7,000 for an entertainment-filled, four-night VIP trip for four to Nashville, Tennessee. The CMA Fest, June 3-7, is considered a showcase week of country music entertainment at various venues around Music City. The winning bidders can see the star-studded red carpet arrivals and the electrifying performances of the CMT Awards at Bridgestone Arena on June 3.
Ole Miss alumna Margaret Barker and Karen Moore, both of Nashville, chaired the anniversary event, which honored generous scholarship, Global Leadership Circle and Rose Society donors, as well as past and present scholarship recipients.
"Margaret, Karen and other council members carried out an outstanding plan for a splendid anniversary event," said Clinton. "We are grateful for their commitment of time and resources, as well as for all those who purchased dinner tickets and bid on auction items. The auction fueled such interest and was so successful that we may consider a similar event at some future point."
Just as the auction added a new dimension to the anniversary event, the OMWC at its founding had a goal of enhancing its scholarships with benefits beyond financial awards. Council members help develop students beyond the classroom by providing leadership training, career and life mentors, cultural and travel experiences, and support to pursue study abroad and internships on the national and international level.
Edith Kelly-Green of Memphis, the council's first chair, said OMWC members are recruiting and developing exceptional students, with a predisposition to shaping a more caring and ethical society. Once they graduate, scholars are expected to help reseed the program when their careers allow.
"From the very beginning of this initiative, I compared our vision to a three-legged stool with the legs representing leadership, scholarship and mentorship – all three crucial to the stool's balance. We focused on scholarships first because a lack of finances often will not allow future students and leaders the opportunity to attend school," Kelly-Green said.
"But we also wanted to send leaders into the world and thus the focused leadership series, now known as PULSE (Preparing Undergraduate Leaders, a Student Experience), is offered to students across campus. Why should our students navigate through life and career challenges by trial and error when the OMWC is made up of those with all kinds of life and career experiences?"
The OMWC scholarships are now among the top awards at Ole Miss at $40,000 each. A total of 147 male and female students have benefited from the program. Recipients meet weekly with OMWC staff members and once monthly enjoy a Red Plate Supper that offers home-style meals and inspiring speakers.
The awards can be created for $125,000 for a general scholarship or $250,000 for a scholarship designated for a particular major. Each scholarship is recognized with a dedication ceremony in the OMWC Rose Garden at the intersection of University Avenue and Old Taylor Road. The Mentor, a bronze sculpture at the center of the garden, watches over thousands of Ole Miss students as they pass by each day.
Other ways to support the OMWC include joining the Global Leadership Circle to help students study abroad or pursue internships. Memberships in the Rose Society and Rosebud Society help provide additional resources for student programming.
For more information about establishing a scholarship, or joining the Global Leadership Circle, Rose Society or Rosebud Society, contact Suzanne Helveston, development associate, at 662-915-2956 or shelveston@olemiss.edu. In addition, individuals can view the OMWC's website (https://omwc.olemiss.edu).