06/02/2023
OMWC Mentors Guide Scholars Through College and More
It's true. Being an Ole Miss Women's Council for Philanthropy (OMWC) scholar provides University of Mississippi students with $40,000, one of the most generous scholarships on campus.
But one benefit of being an OMWC scholar that's impossible to price — mentorship — is perhaps even more valuable.
Throughout their college careers, scholars meet regularly with staff mentors but also have life and career mentors to offer extra support and guidance, said Suzanne Helveston, OMWC program director.
"Mentors offer encouragement and advice that can be life-changing for our students," Helveston said. "They offer a familiar face on challenging days as well as someone with whom they can celebrate their accomplishments."
Ole Miss alumni, faculty and staff; members of the Oxford community; the Women's Council active and alliance OMWC members; and Rose Society members serve as mentors to the scholars. Mentors regularly communicate with their scholar, guiding them in their future careers, helping them with life skills and providing opportunities to network with alumni.
"These mentor-mentee pairings offer insight, wisdom and skills which cannot be acquired in the classroom," Helveston said. "It's an opportunity of a lifetime to be mentored by such an accomplished group of outstanding professionals."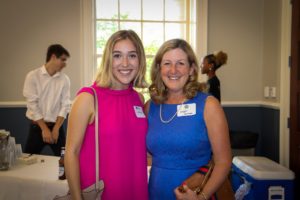 OMWC scholars often find they have new opportunities because of mentorships that enable them to learn from those who have achieved success in the careers they hope to pursue.
Nurturing the Next Generation
"Mary Haskell has been the best mentor for me," said Samantha "Sam" Turner, an OMWC scholar from Starkville, Mississippi.
Turner, who focused on acting for the stage and screen while working on her Bachelor of Fine Arts degree, said she will always be grateful that Haskell, an OMWC member, UM alumna and Oxford, Mississippi, resident, so graciously shared her lifetime of knowledge about the performing arts with her.
A singer, actress and recording artist, Haskell has enjoyed a stellar career, appearing in numerous theater and TV productions, including a co-starring role in the Emmy-nominated Netflix anthology series, "Dolly Parton's Heartstrings."
"Mary has gone above and beyond by giving me advice, helping me with life and career choices, and supporting me in everything I do," Turner said.
For Haskell, being able to spend time with a talented and dedicated student was equally rewarding.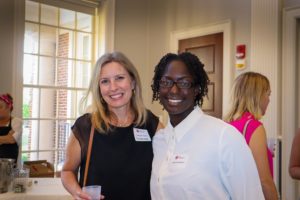 "As Sam's mentor, it is such a joy to watch her following her passion for acting and growing as an artist as well as experiencing the breadth of what it means to work in the entertainment industry," Haskell said.
Offering a Peek into the Legal Profession
Emelia O'Neill, of Smithton, Illinois, is a banking and finance major in the School of Business Administration and plans to attend law school this fall.
O'Neill gained remarkable insight into the legal profession thanks to mentor Susan Duncan, who has served as the School of Law dean since 2017. Duncan plans to devote more time to teaching as a member of the faculty when a new dean joins the school in July.
"Dean Duncan has served as a wonderful mentor," O'Neill said. "Her story inspires me, and I know that with hard work and determination, I can accomplish anything."
O'Neill's most memorable experience with Duncan came when the dean invited O'Neill to co-author a law review article with her.
"We wrote an article called 'Media Ownership Then and Now,' which we presented at the project colloquium, 'Race, Racism, and American Media,' hosted by the University of Houston and Georgetown University law schools," O'Neill said. "I will always cherish and appreciate that Dean Duncan gave me an opportunity very few students have, especially one that gave me such insight into the legal profession."
Duncan said O'Neill has been an inspirational scholar.
"Emelia was an amazing co-author, and I was very impressed that an undergraduate student could add so much value to the piece we wrote together," Duncan said. "I also saw her confidence grow during the process. She really found her voice and will be an outstanding lawyer and leader."
Imparting Valuable Life Lessons
For Amyaha Graham, mentor Margaret Walton Seicshnaydre provided valuable life skills that have enhanced her academic and professional experiences. Seicshnaydre is a mental health counselor at Wright Counseling Group in Oxford.
Graham, of Clarksdale, Mississippi, has excelled in her accounting studies at the Patterson School of Accountancy. Not only has she served as an officer for the National Association of Black Accountants, a comptroller for the Associated Student Body Treasury Department and an ambassador for the Patterson School, she completed an internship with PwC in Nashville, Tennessee, during the spring semester.
Having such a successful undergraduate career at UM often results in additional pressure. That's why Seicshnaydre's counseling and support meant so much to the scholar.
"Margaret has had a tremendous impact on my mental health and has been one of my biggest champions since day one," Graham said.
Best of all, the scholar said, "My most memorable experience with Margaret was when she taught me how to drive!"
Seicshnaydre, a UM alumna, said she was grateful to get to know Graham and lend a hand where and when she could.
"I am constantly amazed by Amyaha's work ethic, courage, openness and perseverance," she said. "I feel so lucky to be able to witness the University of Mississippi experience through her eyes."
Shining a Light on Career Path
A health care career was an option frequently considered by Gray duPerier of Oxford. After all, much of her life intersected with the business of caring for others.
She majored in psychology and minored in society and health as well as chemistry. During the summer of 2022, duPerier interned with Good Samaritan Health Services in Tupelo, Mississippi, where she learned about the importance of philanthropy in health care. She wrote her thesis for the Sally McDonnell Barksdale Honors College on narrative medicine.
Having Stephanie Barrett as her mentor provided an invaluable experience.
Barrett earned a nursing degree from the University of Mississippi Medical Center in 1995 and is now co-owner of several clinics, including one in Oxford.
"Stephanie Barrett has positively impacted my time as a student and influenced the path I will go down after graduation," duPerier said. "She is someone who will always be in my corner, regardless of whatever path I am on.
"And knowing that she is supportive of me throughout every decision I will make means more to me than I can articulate."
For her part, Barrett is convinced duPerier has a bright future and will make a positive impact on others. Barrett should know. For seven years, she has volunteered to serve as a mentor for OMWC scholars.
"It has been a pure joy and a pleasure to mentor Gray over the last few years," Barrett said. "It is always so nice to see her out in the community where you can feel her passion for life, whether she's at charity events or ball games.
"She is an exceptional young lady, and she will be very successful in her future."
For more information about serving as an OMWC mentor and other ways to support the Women's Council, contact Suzanne Helveston, program director for the Women's Council, at shelveston@olemiss.edu or 662-915-2956.
By Sara Mahmoud/UM Development