09/15/2023
Global Leadership Circle Funds Scholar's 'Experience of a Lifetime'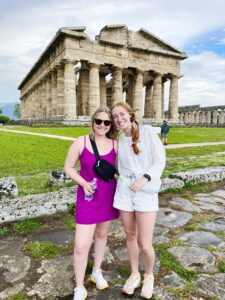 For about as long as she can remember, Emmie Burgess, an Ole Miss Women's Council for Philanthropy (OMWC) scholar at the University of Mississippi, has dreamed of traveling to Italy, a nation rich in culture that historians have long considered one of the cradles of Western civilization.
"I've had a lifelong interest in Italy. When I began studying Italian my sophomore year at Ole Miss, I fell in love with the language," said Burgess, a public policy leadership major on the pre-law track, who also minors in Italian. "I always wanted to study abroad, but the financial burden to do so made my dream to study in Italy difficult to achieve."
The Women's Council's Global Leadership Circle (GLC) recently made the senior's vision come true.
The OMWC established the GLC in 2017 to provide the financial assistance deserving students need to study abroad or participate in a national or international internship. Council scholars who have a minimum 3.0 GPA can apply for the support.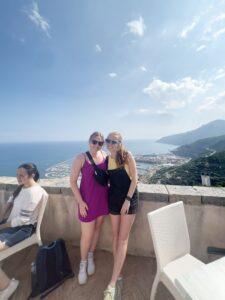 This summer, the GLC made it possible for Burgess and three other OMWC scholars to study abroad: Caroline Brock of Greenwood, Mississippi, traveled to Paris, France; Daneel Konnar of Meridian, Mississippi, toured Florence, Italy; and Ben Oliver of Jonesboro, Arkansas, studied in Geneva, Switzerland, and Vienna, Austria.
Burgess said her four weeks in Italy were life-changing academically and personally.
When her father, a U.S. Air Force veteran, was stationed in Spain, he traveled to various parts of Europe with Italy being especially memorable.
"My dad told me stories of his travels to Italy and claimed that the Amalfi Coast was the most beautiful place he ever visited," said Burgess, who grew up in Fort Smith, Arkansas. "My classes were in Salerno, Italy, which is a small town on the Amalfi Coast, so I was able to see the same stunning area of the country he saw many years ago."
While the views were exquisite, this region of Italy also provided an opportunity for the student to enhance her language skills.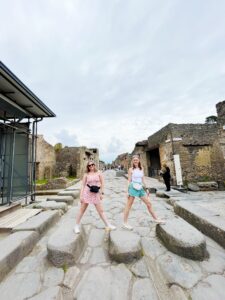 "Because this area is not a common tourist destination, few people who live and work there speak English, so I was forced to speak Italian everywhere I went," Burgess said. "This was an immersive experience that could not be replicated in the classroom.
"We are an interconnected world, and understanding how to properly interact with different cultures is an invaluable skill."
This is precisely why the Women's Council created the GLC, said Karen Moore of Nashville, Tennessee, an OMWC member who is one of the GLC founders and serves as its chair.
"The members of the council want to provide our scholars with a generous academic scholarship," Moore said. "We're also committed to sponsoring innovative study abroad and internship programs that offer unique opportunities for these scholars to be future leaders, mentors and philanthropists.
"The resources available from the Global Leadership Circle enable our scholars to expand their horizons, appreciate other countries and cultures and continue their commitment to making the world a better place."
While the many academic and cultural lessons Burgess acquired during her month abroad were often challenging, she said they were all indispensable.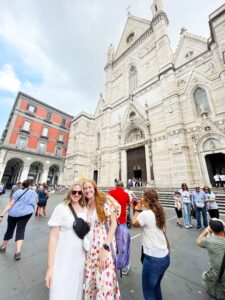 "My classes were extremely difficult but yielded incredible results," Burgess said. "Before I arrived in Italy, I didn't know enough Italian to properly order a coffee. By the time I left, I was able to converse – very slowly – with our servers and tour guides in Italian."
She completed all the academic requirements for her minor in Italian during her time in Italy while enjoying a variety of cultural experiences.
The resources for Burgess' study-abroad program included several meals and excursions, enabling her to enjoy the region's delicious cuisine, explore the southern Italian coast and visit the ancient city of Pompeii. She also took a pizza-making class.
"Prior to this experience, I had rarely traveled outside the southern United States. I would encourage other students to go simply because for me it was the experience of a lifetime.
"Traveling and studying abroad would not have been possible for me without the assistance provided by the OMWC's Global Leadership Circle," she said. "It's difficult for me to adequately express my gratitude to those who have supported and who continue to support the GLC. They helped make my dream a reality."
For more information on the GLC or to make a gift in support of the program, contact Suzanne Helveston, OMWC program director, at shelveston@olemiss.edu or 662-915-2956.
By Jonathan Scott/UM Development